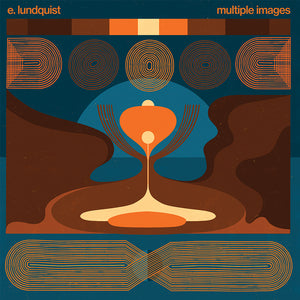 LP 
Exclusive release for Record Store Day 2022

Piano, synthesizer enthusiast, composer, and arranger, Eric Borders aka Captain Supernova, makes first release under new moniker, E. Lundquist. Pushing the boundaries of funk fusion, it's as much 70s library music, as it is Pink Floyd and The Flaming Lips at times. It often feels as if the planet is going to unfold.

Borders, born and raised on the westside of Los Angeles, is known for his cinematic and cosmic compositions that push jazz into a different time and space. 'Multiple Images', the debut release as E. Lundquist, is the composer's first attempt at making a Library Style record. A genre that lends itself well to the Sci-Fi and Jazz Fusion vibes that Borders has been known for in the past. The music often plays as if it is the soundtrack to something happening both simultaneously in and out of this universe.

"As we finished the record it sort of evolved from a library piece into a full fledged album with a mix of different inspirations from blaxploitation, 70's funk, soundtrack, themes, cinematic, and contemporary jazz-funk. It only felt right to break away from the fictional character and give this music a composer name as if you read it on the back of a KPM record. Then E. Lundquist was born." The new name pays homage to old family bloodlines, and is the last name of his biological grandfather. While Eric Borders was his given name, Borders has no actual blood relation to his family, it was the name his father had adopted from his Step-grandfather. The name of the album "Multiple Images" is an ode to one of Lundquist's favorite Library tracks by Brian Bennett "Images".