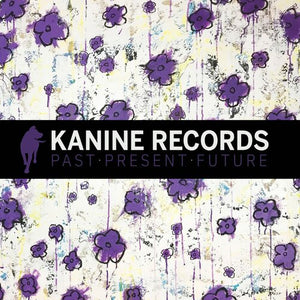 Vinyl LP
Exclusive #LRSD release
Blurb
"We spent the last year working on this promotion and planning it with a local Brooklyn artist named Kelly Jelly. He has become a bit of a cult artist around Brooklyn for his FLOWER designs. Some of his work has been used in indie films, wrapping paper and clothing companies, and sold in various art shows for over $150,000 a piece. And he does them all out of his tiny studio in Brooklyn.

When we first caught glimpse of his Flower paintings it grabbed our attention instantly as we wanted a design that captured the indie vibe from the late 80's / early 90's C86 indie pop / twee pop days. When indie was truly indie. And Indie Labels captured that sound perfectly. Sarah Records, Teenbeat, and Postcard Records are a huge inspiration to Kay and I, so when starting this project we wanted to try and emulate that aesthetic with the packaging design. Kanine Records has always had a strong love of that early 90's sound, and you can still hear that long lost era of indie in each of Tallie's songs that bring strong comparisons to The Sundays and The Smiths.
Although Kanine Records might have a range of sound throughout its history 2003-present, one thing stands the same. Our artists all started as independent musicians and their sound from the records that we released has reflected that spirit. When listening to this compilation you will hear the beginning days of Grizzly Bear's dreamy lo-fi pop, the hazy shoegaze pop of The Deprecation Guild, the quickness of Garden Centre's mind twisting art pop, the sunshine indie pop of Honey Cutt, the swirling guitars of Honey Lung's love of The Smashing Pumpkins 'Gish era', along with a modern take on the RIOT Girl sound via Weeping Icon. Each of these twelve bands on the compilation has created their own little sound in their own scene and universe, but what combines them all together is their love of music with putting out records with a strong independent spirit.
These super limited edition Vinyls DO NOT have a download code, as we want them to be enjoyed on your turntables in your record store, at home, or in your office. This vinyl compilation is an one time pressing of only 1,000 copies"

TRACKLISTING:
Side A
A1. Grizzly Bear – Deep Sea Diver
A2. Tallies – Mother
A3. Garden Centre – Wide Sea
A4. Honey Cutt – Vacation
A5. The Natvral – Why Don't You Come Out Anymore
A6. Surfer Blood – Swim
Side B
B1. The Depreciation Guild – Dream About Me
B2. Hockey Dad – Sweet Release
B3. Honey Lung – Oh So Real
B4. Pearl Charles – All The Boys
B5. Living Hour – Water
B6. Weeping Icon – Ripe For Consumption