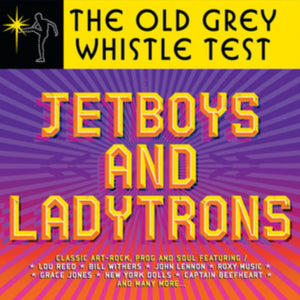 Vinyl 2LP
2019 BBC ‎– 5385667
For over 15 years The Old Grey Whistle Test graced British television screens and would go on to become one of the most incredibly influential music programmes. From its premiere in 1971, through to its finale in 1988, the BBC show hosted countless performances from a number of seminal artists. A remarkable appearance would often help propel an artist from being a mere unknown to a household name.

UMC and the BBC have teamed up and created a set of lovingly curated branded compilations which celebrate the show and all the incredible music it featured. Each 2LP collection is made up of carefully selected original studio recordings of the many interesting and eclectic tracks that were performed on the show.
Jetboys and Ladytrons is an interesting and eclectic mix of all the many musical styles that The Old Grey Whistle Test showcased. From rock, to prog, reggae to soul, it features a number of hugely influential artists including Lou Reed, Bill Withers, John Lennon, Roxy Music, New York Dolls and Grace Jones and many more...