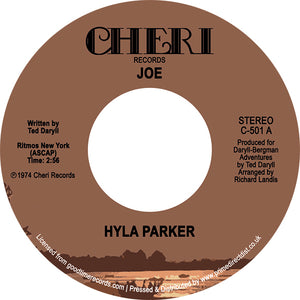 7"
Limited edition. Exclusive release for RECORD STORE DAY 2023
A cherished cut from the Cheri Records back catalogue. Crossover creaminess from the relatively under the radar Hyla Parker, with both sides written by Ted Daryll (Theodore Meister) who wrote hits like Melba Moore's 'Touch' and Jerry Bulter 'Good Times' (famously sampled by Jamie XX).
The A side is a beautiful stepper love song titled 'Joe', harnessing a lovely guitar-led groove with a soaring string section in accompaniment. The B side delves even deeper with a gorgeous deep soul number aptly named 'Quiet Tunes'. It's easy to hear why this record is so sought after. Brown label version original black sleeve.