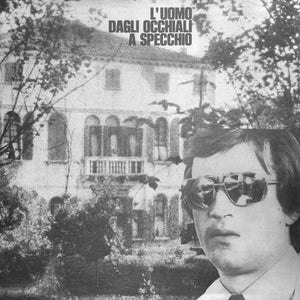 LP 
Exclusive release for Record Store Day 2022
"L'uomo dagli occhiali a specchio" is a 1975 2-part thriller film directed for Rai Television by Mariano Foglietti, former collaborator of Dario Argento in "Quattro mosche di velluto grigio" (Four flies on grey velvet).
The music composed by Sandro Brugnolini for the occasion are exceptional, and in the 14 tracks of the soundtrack it is possible to find all the typical ingredients of a '70s score: a sublime fusion of rock, pop, jazz, classical and symphonic music, with urban funk sparkles typical of the blaxploitation genre. Brugnolini's taste and skill in dealing with these different elements are still astounding today, starting from the four versions of the main theme "La notte muore" included in this record.
Originally released on Vroommm Records label by Edizioni Leonardi in an LP that is today extremely rare and precious, this soundtrack is exclusively repressed by Redi Edizioni on clear transparent vinyl for Record Store Day 2022. Not to be missed!

ITALIAN LIBRARY MUSIC MASTERPIECE!