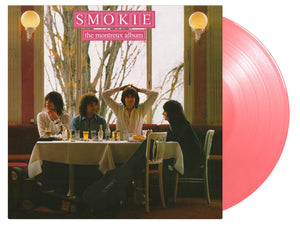 2 LP pink vinyl
Limited edition - numbered.
The Montreux Album was released in 1978 as the fifth studio album by English rock band Smokie. It was named after Mountain Studios in Montreux, Switzerland, where the album was primarily recorded. Recorded at the hight of the band's popularity, this is the last album made in partnership with Nicky Chinn and Mike Chapman. Three singles were released: "For a Few Dollars More", "Oh Carol", and "Mexican Girl", all of which charted well across Europe.

This limited edition of 1000 numbered copies is released on solid pink vinyl. It includes 4 bonus tracks including the #1 hit-single "Stumblin' In" by Chris Norman & Suzi Quatro, "Roll On Baby", "Love's A Riot" & "A Stranger With You" by Chris Norman & Suzi Quatro. Also included: liner notes in the gatefold sleeve and a beautifully etched d-side.

TRACKLIST
SIDE A
1. THE GIRL CAN'T HELP IT
2. POWER OF LOVE
3. NO MORE LETTERS
4. MEXICAN GIRL
5. YOU TOOK ME BY SURPRISE

SIDE B
1. OH CAROL
2. LIVERPOOL DOCKS
3. LIGHT UP MY LIFE
4. PETESEY'S SONG
5. FOR A FEW DOLLARS MORE

SIDE C
1. ROLL ON BABY (BONUS TRACK)
2. LOVE'S A RIOT (BONUS TRACK)
3. STUMBLIN' IN (BY CHRIS NORMAN & SUZI QUATRO) (BONUS TRACK)
4. A STRANGER WITH YOU (BY CHRIS NORMAN & SUZI QUATRO) (BONUS TRACK)

SIDE D
ETCHED