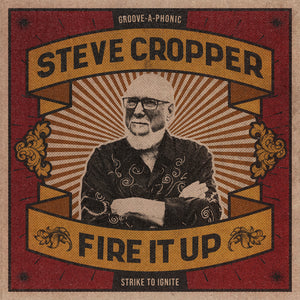 LP
Fire It Up is Steve Cropper's first album of new Soul/R&B material in 10 years. 

The term "Guitar Hero" is bandied about loosely these days. Seems like all you have to do is look good holding the thing and you qualify. But if you ask the actual guitar heroes---like Brian May, Jeff Beck, and Eric Clapton---who THEIR Guitar Heroes are, Steve Cropper is definitely on the shortlist. If all he had done were the records with Otis Redding that would be enough, but shortly thereafter he was leaving his fingerprints on records by Wilson Pickett, Sam & Dave, Johnny Taylor, Albert King, and virtually anybody worthy who came within earshot of Memphis. He was a Guitarist's Guitarist, and a Songwriter's Songwriter.
Steve Cropper was one of Stax Records main producers, songwriters and guitarist their house band Booker T. & the M.G.'s. Cropper was also a member of the Blues Brothers band.  He has collaborated with some of the biggest names in music, including Otis Redding, Rod Stewart, Ringo Starr, Dolly Parton, John Lennon, Jimmy Buffett, and many more. Rolling Stone magazine ranked him in the Top 40 of its 100 all-time greatest guitarists. 

TRACK LISTING
Side A
1. Bush Hog, Pt. 1
2. Fire It Up
3. One Good Turn
4. I'm Not Havin' It
5. Out of Love
6. Far Away
Side B
1. Say You Don't Know Me
2. She's So Fine
3. Two Wrongs
4. Heartbreak Street
5. The Go-Getter Is Gone
6. Bush Hog, Pt. 2
7. Bush Hog