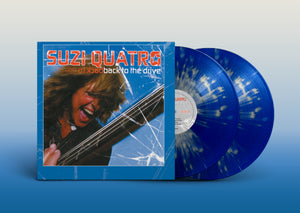 2LP coloured vinyl
Limited edition. Exclusive release for RECORD STORE DAY 2023
Transparent Blue and White Double Vinyl / The only one of Suzi's studio albums that has never been released on vinyl, Back To The Drive is finally treated to a vinyl release – exclusively for Record Store Day.
Originally released in 2006, Suzi has written a new note for each song, included in this gatefold double vinyl edition, along with the lyrics to each track.
Track Listing:
SIDE ONE 1 Back to the Drive 2 15 Minutes of Fame 3 Duality 4 I Don't Do Gentle
SIDE TWO 1 I'll Walk Through the Fire with You 2 Wasted Moments 3 Rockin' in the Free World 4 No Choice
SIDE THREE 1 Sometimes Love Is Letting Go 2 Dancing in the Wind 3 Free the Butterfly 4 Born Making Noise
SIDE FOUR 1 Desperado 2 No Choice (demo) 3 Free The Butterfly (demo) 4 Dancing In The Wind (demo)"