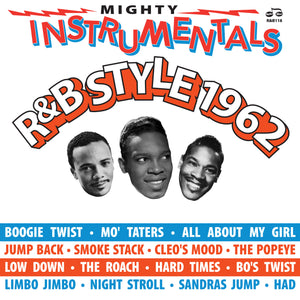 LP 
Limited edition. Exclusive release for RECORD STORE DAY 2023
Not on the UK RSD list, but on the RSD list in Germany.
Rhythm and Blues Records label always come up with a few goodies for RSD and this one is too good to miss

1962 was the peak year for hit records instrumental-style, with no less than 123 discs scoring on the American pop charts. There wasn't much in the hit parade to interest R&B fans though, apart from King Curtis's Soul Twist, Booker T. & The MG's Green Onions and James Brown's Night Train, but that's where Mighty Instrumentals R&B-Style 1962 comes in. So what was new in '62? A bit of surf, a bit of funk, a Civil Rights semi-instrumental, a brand new rhythm on Boogie Twist. More slinky organ groovers, uptown dancers and late night smoochers. And there you have it – 18 R&B scorchers with rhythm aplenty.
Side One 1. The Popeye - Lonnie Brooks 2. Boogie Twist (Pt.1) - Cal Valentine 3. Boogie Twist (Pt.2) - Cal Valentine 4. You Too Much  - Mighty Men 5. Here It Tis - Phil Upchurch 6. Had - Steve Douglas 7. Mo' Taters - Little Milton 8. Cleo's Mood - Jr. Walker 9. The Freedom Riders - Harold Jackson Side Two 1. Night Stroll - Bobby Parker 2. Smoke Stack - Tom & Jerry 3. Low Down - King Curtis 4. My Sandra's Jump - R.D. Stokes 5. Jump Back - Eugene Blacknell 6. Hard Times - Googie René 7. Bo's Twist - Bo Diddley 8. All About My Girl - Jimmy McGriff 9. Limbo Jimbo - James Brown