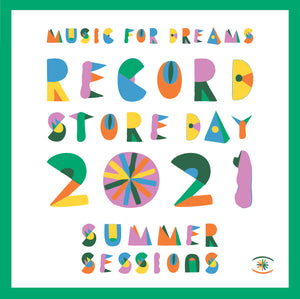 LP  
Exclusive release for Record Store Day 2021 - Drop 2
Music For Dreams are back again with their annual Sunset Sessions LP release especially for Record Store Day.

The LP features 6 tracks that have never before been released on vinyl, and some tracks that are also unavailable digitally (A1, A3, B1)

Lucci Capri – Boom Boom Clap is an unearthed MFD release from the vaults that was a mainstay in label boss Kenneth Bager's record bag for years. It never failed to deliver on the dancefloor. The seminal track by Leo Mas & Fabrice featuring the Vocals of Sally Rodgers (A Man Called Adam) was released in lockdown 2020 digitally, but gets a well deserved release on vinyl just in time for the summer opening of events in 2021. 
Rheinzand have been on the lips of most people in the know during 2020 and also got the coveted Album of the Year at Piccadilly Records. This year has seen some killer remixes being released. NYC Danilo Braca's take on Porque is no exception and is exclusive to this RSD release.

The B side is for those sunset or sunrise moments, those downtempo gems that really hit the sweet spot. Troels Hammer Vendetta kicks off the side with a blissful Dubby Rhodes keyboard track. Australian Jamie Porteous track Levelz (A warm up winner with Sean Johnstons ALFOS lockdown crew) The LP ends with multi instrumentalist Reinhard Vanbergen with a chillout gem from his Ubuntu album that never featured on the vinyl box set release.

TRACKLISTING:
A1 Lucci Capri – Boom Boom Clap
A2 Leo Mas & Fabrice feat. Sally Rodgers – This Unspoken Love (Questo Amore Segreto) Vocal Version
A3 Rheinzand - Porque (Danilo Braca Strings Loopy Remix)
B1 Troels Hammer – Vendetta
B2 Jamie Porteous - Levelz
B3 Reinhard Vanbergen – The Dreamteam

Available only instore from 08:00 Saturday 17th July - any remaining stock will be released for online sales at 6pm 
All RSD titles restricted to 1 copy per customer