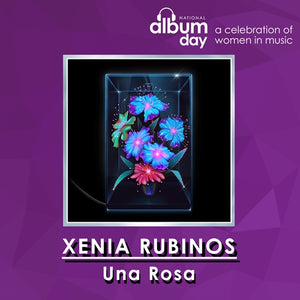 LP 
Xenia Rubinos, is a New York City based artist who's been revered for her innovative voice and maze-like knack for melody. Una Rosa is Rubinos' third album , her second on Anti- Records, following up her critically
acclaimed Black Terry Cat (2016).
Xenia Rubinos dips in and out of genre and structure to create movingly powerful songs. Her powerhouse vocals stem from a combination of R&B, Hip-Hop and Jazz influences, all delivered with a soulful punk aura. Pitchfork has lauded the radiant singer as "a unique new pop personality" while The New Yorker described her work as "rhythmically fierce, vocally generous music that slips through the net of any known genre."
Having previously collaborated and toured with acts as diverse as Battles, Deerhoof, Man Man and Tune-Yards, Rubinos' energetic live show echoes some of the larger than life icons she admired as a child like Nina Simone and Erykah Badu, while wielding a space in music that is utterly her own. "I think my sound is a collage of
different music coming together on a visceral level, connecting the dots with my voice and imagination," she said.
Una Rosa is produced by Rubinos along with her longtime collaborator and drummer Marco Buccelli, and is full of color- drawing much of its multichromatic sound from the bright colors of pop art, which Xenia was immersed in during the writing process.
Side A: 1. ice princess / 2. Una Rosa / 3. Ay Hombre / 4. Working All The Time / 5. Sacude / 6. Who Shot Ya? / 7. Cógelo Suave
SIDE B: 1. Darkest Hour / 2. Don't Put Me In Red / 3. Worst Behavior / 4. Did My Best / 5. Si Llego / 6. What Is This Voice? / 7. FIN